18 September 2021
Bold customer case: Shaping a culture of critical thinking through 89 sales hires in 6 months

About bold
Bold is a fast-growing fintech scaleup from Bogota, Colombia. They help entrepreneurs unlock their full potential through financial tools, such as dataphones and payment links. Started only two years ago, their team has already grown to an impressive 100+ people!
In this customer case you'll learn:
How Bold managed to change their culture through using Equalture;
How Bold managed to shape a process efficient enough to hire 89 sales colleagues in only 6 months' time.

Goal with Equalture: Shaping a culture of critical thinking
Bold partnered up with Equalture in January 2021, with the aim to increase the level of critical thinking in the organisation, to deeply embed a critical thinking mindset into their culture. In practice, this meant that the company's average score on Equalture's game measuring critical thinking, should improve over time. As the Sales team was aiming for the largest growth, the pilot was therefore focused on the Sales team.

Results of hiring
89

people for the Sales team in 6 months

By letting all candidates complete Equalture's games right at the start of the hiring process, the screening-to-interview and interview-to-hire conversions have been improved tremendously. This enabled Bold to hire 89 people for the Sales team in only 6 months' time, who together improved the average critical thinking ability by 36%.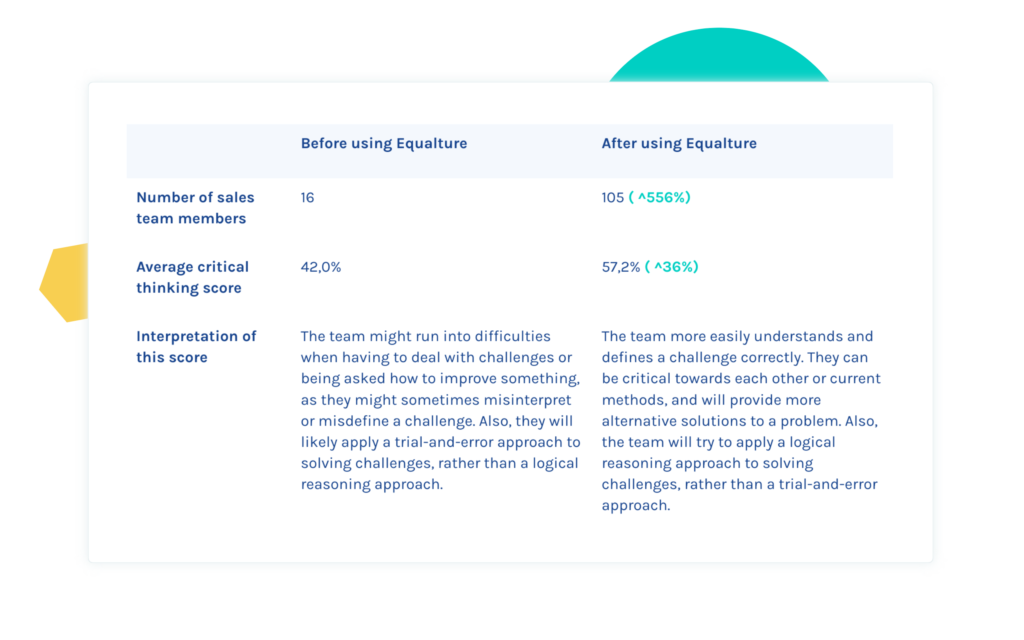 How Bold ensured an
efficient

hiring process

When wanting to hire almost 100 people in 6 months' time, the hiring process requires enormous efficiency. Here's how Bold managed to do so:
Step 1. By conducting a team analysis, Bold could reveal the current level of critical thinking. Based on this input, a minimum required score on this game has been set.
Step 2. All candidates who applied to Bold's sales jobs were immediately and automatically invited to complete the Equalture games.
Step 3. Only the candidates who met the minimum required level were invited to an interview, resulting in a very efficient applied-to-interview and interview-to-hire ratio.

Want to play the critical thinking game yourself?