21 June 2020
Startup Flight #5: The 'Corona Battle Plan' from a founder-perspective
Hi there! My name is Charlotte and I'm Co-Founder & CEO of Equalture (a hiring software that leverages gamification to debias hiring for SMBs) and living in the most beautiful city in the world: Rotterdam. Being an entrepreneur for 4 years now and building my second company together with my twin sister, I get a lot of questions from other founders and people thinking about starting their own company.
Since I believe that every single founder experience can be helpful to other founders, I decided to translate these frequently asked questions into a blog series: Startup Flight.
In this fifth blog: Our response to the corona crisis (and therefore how I deal with setbacks and unforeseen situations).
---
It's just a flu, right?
That's what most of us probably thought a few weeks ago. People even made jokes about it. And when universities closed their campus, I even heard people saying things like: ''Nice, no exams for me, it feels like a holiday''.
That was two weeks ago. Today everyone is talking about nothing else than corona. We not only closed schools, but also all restaurants, offices and many retail stores. And here in The Netherlands we are even mild, since many other European countries announced a lock-down already days ago and closed all borders.
So unfortunately it's not just a flu. And it's impacting not only our health, but also our economy. And my company, just like many other scaleups.
As soon as it started to hit our company, we immediately tried to respond to it. To come up with a battle plan. And although it might not be the best battle plan, I still want to share it to hopefully help other scaleups that are still figuring out their own battle plan.
March 16: Kickoff Day (+ Office relocation)
On Monday (March 16) my Co-Founder Fleur was back from her holiday. So this was the day to take stock of the damage so far and the expected damage on the long run for our company (Equalture). Luckily enough we closed funding last month, meaning that we have two incredibly helpful VCs on board to help us in these challenging times.
Equalture is a predictive hiring platform for scaleups. And although B2B SaaS seems suffer limited from the consequences of COVID-19, the hiring market is obviously damaged significantly. And to be honest, from a founder-perspective I fully understand that, in uncertain times, scaleups don't dare to hire a lot more people.
We knew that there would be consequences for us. We just didn't know what the exact impact of these consequences would be. That's why we decided, together with our investors, to use Tuesday as our Collection Day — a day to talk to our clients, analyse the market and predict the consequences.
So on Tuesday everything should be in place and everyone should be ready to rumble. We therefore wanted to provide our team with all possible comfort while working from home. So Fleur and I decided that, if no one could work in the office, we should just bring to office to our amazing team!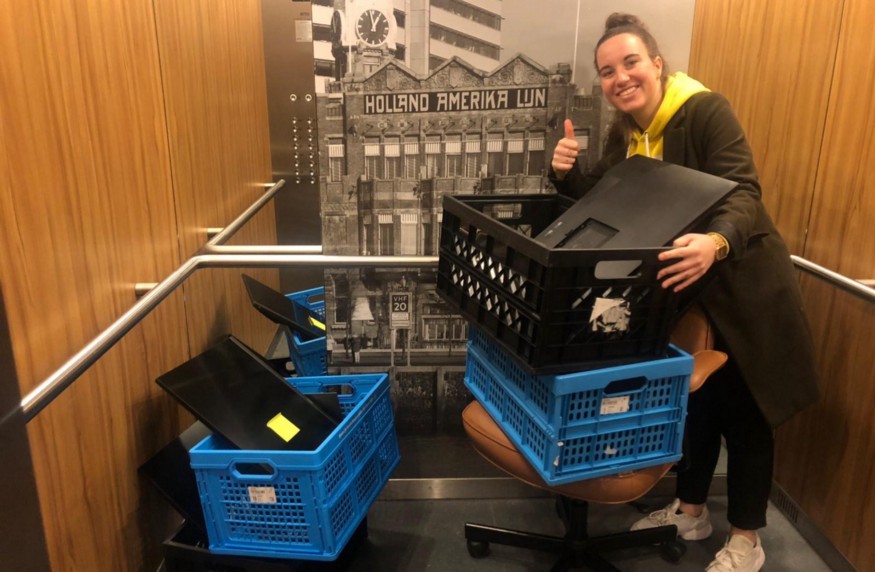 March 17: Collection Day
So Tuesday was all about collecting information. We focused on answering two questions:
Which industries aren't suffering from COVID-19 or even flourish as a result of this outbreak?
What's the concrete pain of our Ideal Customer Profile that is still within our field of expertise (People Strategy)?
My first learning: Time can beat you. But teamwork beats time.
If such an unforeseen thing like the corona crisis happens, there's never enough time. Only the companies on top of the first wave survive; companies who wait for the second one risk failure. So we decided to immediately involve all teams: Business Development, Product and Customer Success. Our BD team was responsible for answering the first question; Product and CS were together responsible for answering the second question.
The first question was market research. A lot of work, but at least the information was there. The second one, however, was more tricky, because for this one we needed input. Help from our (potential) customers.
Luckily enough we did receive this help. We sent out a Typeform to customers and prospects and asked them to share their People Challenges with us. This was extremely helpful, because we could now actually base our Battle Plan on real data rather than assumptions.
At the end of the day we were able to answer both questions. We had (i) created a list of companies that are still running well (or even better) in this corona crisis and (ii) found the most critical people challenge: Remote team productivity and mood.
March 18: Bridge Day
We had all information. Now 'all' we needed to do was making a bold decision: Keep focusing on Equalture's core business or flipping our value proposition. In other words: Keeping our fingers crossed and sticking to our long-term plan or responding to this crisis with a short-term plan.
I think that most of you will think: Short-term is never the way to go. And I agree. But long-term would basically mean not responding to what's happening. And that wasn't the way to go either — at least in my opinion.
So we decided to play it differently. We bridged our long-term goal and short-term plan. This is how:
Step 1. Formulate your company's end-game again first
We (me, our CCO and CTO) sat down with our Product Owner to discuss the long-term product roadmap we created. And to once again formulate the end-game we have with Equalture: Build great teams that allow companies to grow through objective data analyses.
Step 2. Formulate the pain that companies are facing right now
After we formulated our end-game, we discussed the outcome of our survey among our customers and prospects. Their biggest people challenge due the corona crisis. And that was, based on the votes we got, remote working. 'How to shift van zero to hundred percent remote working in one day while ensuring both productivity and team happiness?'
So now we had an long-term end-game and short-term market pain. Cool.
Step 3. Bridge the game and the pain
The third and last step was actually quite simple. We want to help companies build great teams to grow. And we want them to excel in remote working. Bridging that game and that pain leaded to the following idea: Helping companies' current teams to master remote working in order to keep growing.
And by following these three steps, all of a sudden we had a battle plan for the corona crisis: Keep growing our existing product in a broader market while helping that same market solve a current pain. And by proving our added value now with our 'corona-response proposition', hopefully this market would also recognise the value of our core product after this crisis is over.
My second learning: Never make these decisions on your own in these kinds of situations. Sit down with all stakeholders in your company to force yourself to carefully think through your plan.
March 19: Building Day
On Thursday we had one day to bring our plan into practice. Because only by releasing this initiative on Friday already we could show the world that we're a professional company, being highly aware of and responding to the needs of our (potential) customers.
So in one day we built our proposition, our branding, our website, and of course the product itself. The product was the least of all the work fortunately, because by focusing on bridging our long-term game with this current pain, we already had 90% of it ready: We had the features and we had the data. So the only thing we needed to do was creating a new report functionality. And while our Product Team focused on this part, our BD/CS team focused on all other tasks.
My third learning: Use your current product as an MVP for your new product. It's always better to first 'pilot' a new proposition before spending weeks on building at. After all, people need it now, not in three weeks.
March 20: Launching Day
Finally, on Friday we launched Remotely, a tool that helps companies assess and improve their teams' remote working skills. We make it possible to assess your team members on the 8 skills proven to be crucial for remote working in only 15 minutes through Equalture's neuro-assessment games. And Equalture's algorithm is used to translate the results of these assessments in practical recommendations to help your team members improve these skills right away.
My fifth learning: I can't thank my team enough. So thanks again guys!
Again, I'm not saying that this is the perfect battle plan. However, at least this plan helped us to show our expertise during challenging times, which will definitely give us some credits for the future. Showing companies that you can help now provides them with trust for a future collaboration.
Yes, we do.
And in case you're wondering: Yes, we suffer significantly from corona. Even when this battle plan turns out to be a success, we will still feel an enormous pain from the corona virus. These situations, however, are the situations in which your leadership skills are assessed extremely. There's no doubt that your company will suffer from the corona crisis as well. To what extent you will suffer from it, however, is up to you. Keep your head cool, make use of the expertise of your amazing team and I'm sure that together you can survive these challenging times.
Cheers, Charlotte