27 June 2019
The Equalture Story (7): Setting up Customer Success.
The Equalture Story. A series of stories to give you a look behind the scenes of our company. Milestones. Failures. Lessons we've learned. Just the honest story about a SaaS startup trying to conquer the world.

In this blog: How our Customer Success Manager Tim is setting up Customer Success.


---

Let's introduce myself!
My name is Tim and I'm the very first Customer Success Manager at Equalture.
Before I started at Equalture as a Customer Success Manager I worked in completely different fields, and exactly those experiences were the cause to instantly fall in love with the idea and product. I graduated my Masters in 2017, where I specialized in advertising effectiveness within my Marketing studies. During and directly after I worked at the University, in media and real estate. So the shift to the world of HR seems to be a weird, I'll give you that. However, the desire to make other people happy is one of my hobbies. I believe this is truly one of the key success predictors of becoming successful in Customer Success, and something which must be in the DNA of any new team member in CS.
In this blog I'll share my view on Customer Success in SaaS and some bad and good practices on how to setup this department in a startup.


Bumps and buckets
In many companies you can see that there is still a major focus on sales instead of customer success. If this process goes on for too long they will drain their pool of leads to exhaustion, while on the other end customers churn for various reasons never to return. Their market shares will drop, where the competition will fill the gaps in the industry. So, retaining your customers is key and, from the stage where you would generate a significant amount of turnover, even more important than the actual sales. It costs less effort to sell the product to the current users, which is especially important in subscription-based companies like ours, and chances are higher than these long-term relations will turn into advocates for our awesome product!
It's difficult for startups to realize that aiming for a constant flow of new customers should not be the main focus. Of course, at the absolute start of your company this is the only way to go. We experience too often that these companies are fuelled with ambition to acquire new customers while at some point there needs to be a shift of focus; retaining your new customers.

It's like building a bigger bucket, stab some bigger holes in the bottom and throw more water in it. Your sales team could be busy all the time, living in the perception that the company is thriving, while the water escapes just as easily it came in. A good Customer Success Manager has one main job; to build a bulletproof bucket, where the water stays in.

Starting up at a startup
It's a challenge to set up Customer Success at a startup. In the beginning Charlotte was answering the Intercom messages, while multiple people were responsible for onboarding new customers and checking in once in a while. Luckily we recognized that we needed someone focusing full time on making sure that customers retain, to prevent any churn as much as possible. The first thing we did was making a list of everything we wanted to do.
Step 1. Tooling to bundle the information
We soon realized that we needed a customer success tool to track certain data on MRR, subscription periods, NPS, buying reasons, churn probabilities and customer activity. We've found an awesome platform for that, called Vitally! So if you want some tips you can contact me in the live chat.
Step 2. The Customer Success Roadmap
Also, my job would be to automate the parts of customer success wherever it's possible while guaranteeing a personal touch where it's needed. With everything and always, you try to make the product and service reliable, easy and customer-focused. With this in mind I've created an enormous to-do list to set up this team for success along with a roadmap to provide us with some guidance.
Having the stage in mind where our company is now, expecting a significant growth over the next two quarters, we decided to already tackle these issues before it really takes off. In terms of automation it's not necessarily urgent now, since we can cover almost everything now with a personal touch, but we decided to already set everything up. Which means; having automated follow-ups, implementing workflows, email templates, Intercom onboarding tours, customized messenger bots, support articles and feedback loops.
So that's our plan for the coming months: rocking our Customer Success practices to make our clients the happiest ones on earth!

You can contact me through the live chat if you have any tips, comments or questions! I will make a new blog in about two months, so we can see which parts of the Customer Success setup were a success and what to improve.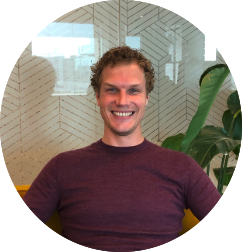 Cheers, Tim