22 October 2020
How important is hiring for cultural fit?
 This a guest blog of our partner TeamTailor. 


Demands of the employer in the modern job market have evolved from purely competency and aptitude-driven hiring, to culture-driven hiring. Likewise, the modern candidate will consider a healthy work culture a prerequisite when applying for a job.
But what do we really mean by cultural fit? Some would describe it as hiring a post-work cocktails kind of person. In some ways this is true but hiring for cultural fit is also about employees who share the same core company values, along with a common purpose and understanding of the work processes.
Some view hiring for cultural fit as a way to discriminate against people with different personalities. Others see it as the determining factor when it comes to recruitment. Whatever the strategy, it's important to analyse cultural fit from all angles.

What are the benefits?
We recently conducted a poll asking companies what they considered to be the most important factor to showcase to candidates applying for jobs. Amongst stern competition, culture was the overwhelming winner! So, why should companies be hiring for cultural fit? For starters, research finds that employees who are a good cultural fit are far less likely to leave (81% in fact). This is a compelling statistic – it stands to reason that increasing staff retention rates will save time, resources and costs.
Similarly, employees who enjoy what they do, have the chance to work with likeminded people and share the ethos and values of their company are always going to be more engaged at work. It's therefore unsurprising that employees who are a good cultural fit also have higher job satisfaction and improved job performance (90% and 84% respectively).

''Hire for culture, train for skills''
An increasing number of people are subscribing to the philosophy that you should 'hire for culture fit, train for skills'. There is definitely something to be said for this approach. If a candidate doesn't quite have all of the desired training and skills you're looking for but is an excellent fit with the rest of the team, they shouldn't be discounted out of hand. It's important to remember that upskilling is almost always possible, and a good cultural fit is likely to be much more of an asset in the long run.
Naturally, other considerations beyond culture need to be made during the recruitment process. But on a fundamental level, hiring candidates you believe will integrate well with the rest of your team and understand your company's goals and values will ultimately lead to far more productive, engaged and happy employees.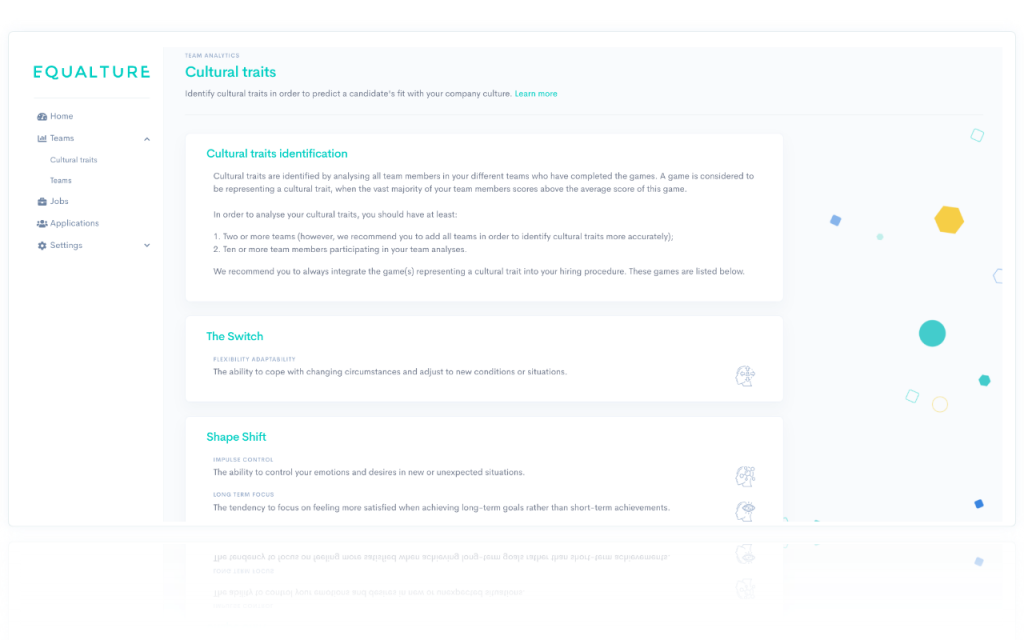 Keen to undertand how Equalture's gamification reveals your cultural traits and assesses candidates on their fit with these traits?


What are the risks?
According to a survey by totaljobs, 1 in 5 employers claim they wouldn't hire a candidate if they weren't the right cultural fit. It's fair to say that times have changed and that employees are rarely at a company for their lifetime. They long for that flexibility, transparency and freedom and if that is found in a job, they are likely to refer other candidates. But how do employers develop an unbiased approach that doesn't risk discriminating against different personalities?
A notable risk for hiring culturally is creating a homogeneous culture that feels more like a clique and not a team. In other words, it is easy to slip into the habit of hiring those who have similar behaviours, all at the expense of diversity and inclusion. Hiring for 'fit' is extremely ambiguous for recruiters, who may instead have their self-interests at heart and not the company ethos. Subsequently, a candidate's skill set and experience is disregarded by recruiters who hire similar employees to the ones they already have. You may have hired someone that embraces every team social or craves that game of pool in the office with you, but being a part of a company culture is much more than that.
The Wall Street Journal illustrates that hiring managers must dig deeper to discover whether candidates are in touch with the more fundamental elements of their culture such as innovation, work processes and customer satisfaction. Sussing out these fine details from a candidate of course is easier said than done, particularly when hiring remotely. Methods such as psychometric testing could aid this part of the process and combat the absence of face-to face interaction.

Hire for the right reasons
The ambiguity of hiring for cultural fit is what causes the idea to be somewhat toxic and misunderstood. Certain aspects of a candidate's personality must be measured and attributed to their desire to work for the company. Hiring managers should therefore consider how a candidate exemplifies certain company values and the contribution that person could make, as opposed to how they fit in.
Hiring for cultural fit, but smartly and shrewdly is what trumps competence-based hiring. Upskilling can be used for employees in the short term but culture speaks volumes for the long term. In essence, culture fit can enable companies to snap up crucial talent and ultimately improve job satisfaction, performance and retention.